Welcome to the English version of www.liebfrauenarzt.de. Our practice of gynecologists and obstetricians right in the center of Frankfurt/Main, Germany, is open year round from Monday through Friday.
Pregnancy
We take care of pregnant patients from the very beginning of pregnancy (i.e. first positive pregnancy test) throughout delivery; we also help you searching for a class of pregnancy exercise or Kegels for your pelvic floor (in your mother tongue if needed) as well as for a midwife and a hospital for your delivery.
Contraception
We assist teenage girls and grown up women choosing the right contraceptive devices, e.g. the pill, IUD, alternatives as the adhesive called Evra, the vaginal ring Nuvaring, the IUD with the hormone Levonorgestrel and so on; in case of an unwanted pregnancy you can receive the necessary pregnancy counseling (§ 218) in our practice.
Gynecology, ultrasonography and prenatal diagnosis
Part of our offer is the routine checkup including the Pap smear, gynecological ultrasound and ultrasound of the breast. During pregnancy there is the possibility of performing extra examinations besides the routine examinations, e.g. measuring the fetal nuchal translucency (NT) combined with the first trimester Screening or integrated Screening, or performing a high resolution ultrasound around the sixth months of gestation to find out about any fetal abnormalities or malformations. However no prenatal diagnostic means can guarantee a healthy baby nor can the amniocentesis, which is part of our possibilities as well. But still: the standard condition is the baby being alright!
Specialization
All of us doctors speak English. If you have difficulties being understood by our employees at the first registration please let us know: ask for a recall by one of the doctors or book your appointment via internet.
All our doctors perform the routine gynaecological checkup and care of pregnant women.
Dr. Gleissner´s focus is on prenatal diagnosis and high resolution ultrasound. He is also state-approved counseling center for unwanted pregnancies (§ 218).
Dr Vogt-Hell is specialized in child and adolescent gynecology (1-14 years of age) and is also attending to herbal and homeopathic medicine.
How to get an appointment
Please make your appointment via Internet or give us a call 069 / 2193 5240
How to get there
Use the station S-Bahn Hauptwache or subway stations Hauptwache or Römer. If you travel by car or if you walk, our city map will guide you.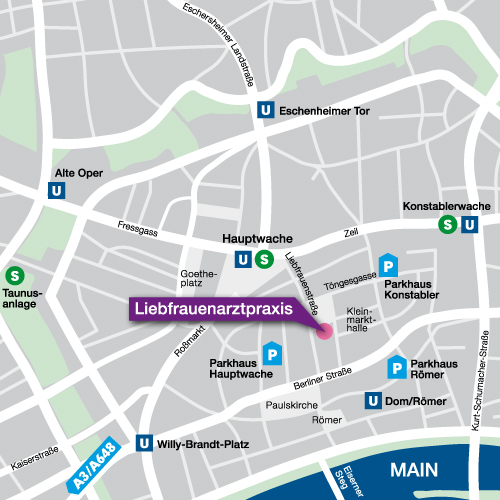 med. info: www.zanzu.de